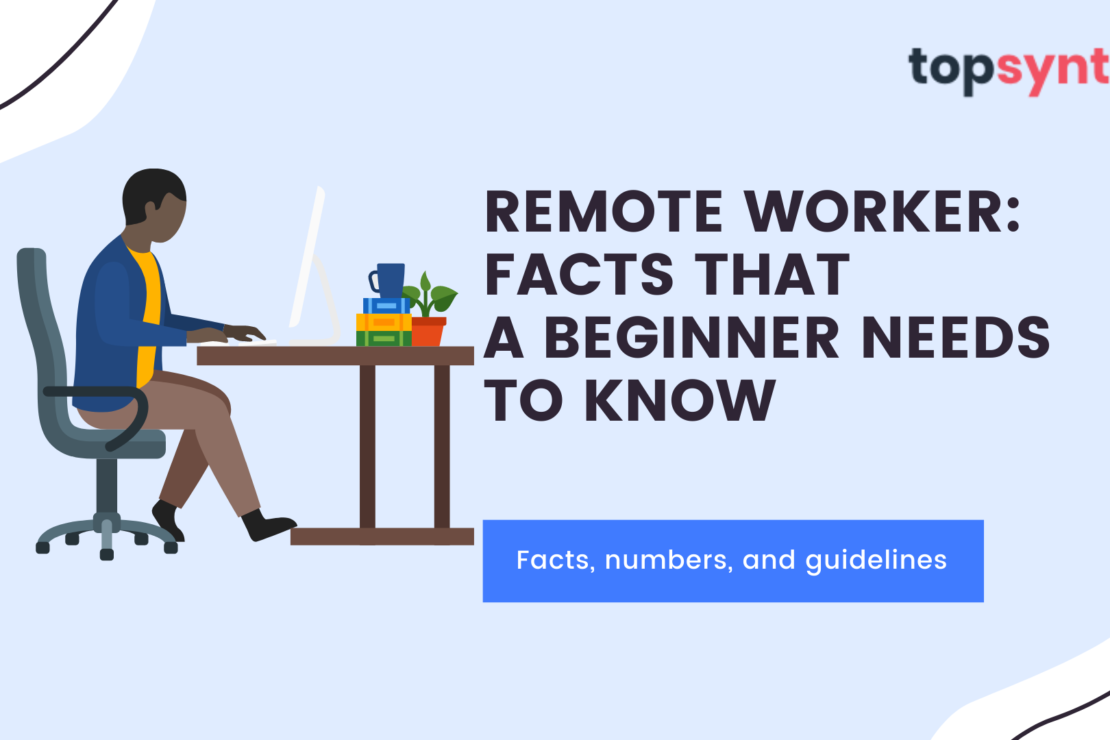 Though many of us have heard about people working remotely, most of us don't have any idea what a remote worker is? Let's find it together.
Remote Work and Remote Worker
Remote work is a new solution to old problems. It is a non-traditional way where a worker doesn't need to join his employer in their office.
It is a new professional solution that affirms the idea that for work, a specific traditional place is not necessary.
In remote work, the workers don't need to sit at a specific desk and respond to the commands of their boss. They can work from wherever they please and successfully execute their projects.
Remote work offers the flexibility to work according to one's own comfort. Hence, a remote worker can offer their best when working with their ease.
Remote workers enjoy the beautiful combination of technological innovation, offshore work, flexibility, and resultant productivity.
In the era of pandemics, remote work is a blessing to earn your living and not let your energies be spent uselessly.
And an interesting fact: Remote work is not going anywhere; it has come to stay!
Some Basic Questions about Remote Work by remote worker
People ask a lot of questions about remote work, some of them and their answers are as follows:
Does it work?
The biggest question is about the viability of remote work. Even today, most people think that no work is possible outside traditional-office-space.
Remote working is happening for the last two decade android-19 Pandemic has added to the need for remote work, thus, It is more in vogue than it previously used to be.
Is it productive?
There is no doubt about the productivity of remote workers. The employer just needs to ask regularly for feedback from the employees.
Can I be a remote worker?
Anyone can be a remote worker. The only condition for it is the viability of your work to be carried out online.       
Does one face any challenges while working remotely?
Yes, like traditional work, a remote job has its own challenges. It depends upon your management skills to tackle those problems.
In remote work, the most important issue is to maintain the momentum and give the best product. The biggest challenge that a remote worker faces is to makes him/herself work.
How do we connect and communicate?
There are various ways of communication. These include social media, video communication apps like Zoom, Microsoft Teams, Google Meet, etc.
Is it fine for my mental health?
Most people face psychological problems like depression, anxiety if they work in a closed space for a prolonged period of time. This may be an issue for a few, but not all, as it is becoming the new normal.
Categories and Jobs in Remote Work
Remote work can be categorized on three bases. These are:
If a person
is a freelancer
is an Entrepreneur
the jobs are remote jobs and suit remote work
On the basis of the above-given qualifications, we can draw on a range of about 15 remote worker jobs, a list of which is given as follows.
As evident from the name of the job, this remote worker works on designing and developing websites. Their common responsibilities are creating webpages, assess the targets and goals of the website, and then making enhancements as needed.   
It is the job of a social media manager to promote a business on social media platforms and ensure that their content reaches the maximum possible audience.
It is a social media manager's job to make advertisements, engage customers, and update them regarding new trends.
Customer Service Representative
A customer service representative's job is to handle customers. They deal with complaints, feedback and respond to any customer queries. It is one of the most viable remote worker jobs.
It is the duty of a virtual assistant to work remotely and deal with the employer's administrative responsibilities.
Common responsibilities of a remote worker include proofreading official documents, making appointments, responding to phone calls, database maintenance, etc.
The primary responsibility of a graphic designer is to make visual designs for their employer.
Their main jobs are to work on advertisements, infographics, designing, etc. Graphic designers work remotely as freelancers and remote workers.
A writer's content is proofread and edited by a copyeditor. They look for errors in the content and make the necessary improvements. It is one of the most highly demanded remote jobs.
An accountant's main responsibility is to keep records and keep a steady balance.
One of the great privileges of an accountant is no necessary need to work in a traditional office. Therefore, it is a most befitting remote job.    
A recruiter works on the induction of high-quality human resource to a company or business. Remote services have made it possible to recruit people online. It is one of the highly demanded remote jobs.
A copywriter transforms ideas into words, spoken and written content is the craft of a copywriter. Today, most copywriters work from the comfort of their couch and attract the world through words.
A sales representative's job is to attract potential customers. Moreover, the online world has made it possible to work on customers even if they are miles away from you.
Companies look for online sales representatives who can promote their business.
Digital campaigns and strategies are the responsibility of a remote marketing manager. Remote marketing managers analyze the situation, select the target audience, and then plan how to execute it successfully.
It is remote workers who have revolutionized this field.
Data analysis and interpretation is the responsibility of a data analyst. They create reports and understandable charts for the convenience of other employees.
With virtual businesses and remote jobs, data analysis has secured its place as one of the highly demanded remote worker jobs.
Project managers carry the responsibilities of carrying out a project successfully from the beginning to the end. The remote project manager monitors the project online.
A remote user consumer experience designer looks for the needs of customers. Furthermore, they then forward the recommendations to developers to make changes to products according to customer needs.
As evident from the name, the software engineer develops apps, programs, operating systems, network control systems, etc.
A remote software developer works on designing apps, makes improvements and upgrades as needed. It is one of the most highly paid remote worker jobs.
How to find a remote worker job?
Remote worker jobs can be found online on various sites. It depends on a worker whether they want to go for a company or work independently.
If a worker wants to pursue independently as a freelancer, then they can join various freelance sites.
If someone wants to work with a company, then they can find a whole list available on various search engines.
The most important thing is to know about one's preferences if someone wants to join a remote company. Bookmark the career pages and then look at them regularly for remote jobs' availability.
LinkedIn can also help you with this feat; you can find a lot of remote jobs there.
Before applying for a remote job, ensure that you have a strong portfolio and impressive representation skills. It can help you easily secure a remote job.
The best places to find remote jobs are:
REMOTE.CO
POWERTOFLY
JUSTREMOTE.CO
FLEXJOBS
WE WORK REMOTELY
If you search for a suitable job there, we hope you would be able to find it.
Perks and Privileges of Remote Jobs
Remote jobs offer a number of privileges to remote workers; some of them include:
The biggest benefit of a remote job is flexibility. It depends on the employee which hours suit him best to work. Thus, a remote employee enjoys their time and maintains a work-family balance.
Better Health and Wellness
In a traditional office, there are chances that an employee feels discomfort and might face psychological issues.
Daily commutes add to stress, and remote work rids employees of this problem.
Rejuvenated Passion for Work
In remote work, an employee can filter out the harmful vibes and can work with comfort. This creates a sense of passion in their work, which in turn increases productivity.
Remote work saves the bucks that are spent on commutes from home to office and office to home.
It gives the remote worker an opportunity to use this money for their family's well-being.
No risks in times of Pandemic
In times like the Covid-19 pandemic, remote jobs have proved to be a blessing. They have not only saved workers from layoffs but also have saved them from the contraction of infection.
Along with workers, employees also enjoy some perks; these include:
Remote work saves the costs of spending on offices and traditional expenses. To save costs, most employers look for remote employees.
Due to increased comfort levels of the workers, the productivity level is increased, and this benefits the employer.
Increased profits, high productivity lead to the increased value of the business. This way, an employer is engaged well by the remote workers.
There are more opportunities in remote work, which keep the employees engaged.
No need for Traditional Office
There is no need to have a traditional office space in remote work, nor the problems related to it emerge. So remote work benefits the employer.
Cons of Remote Work
Though remote work is beneficial for both employee and employer, there are some problems related to it. These are:
Miscommunication in remote work often causes problems, but it can be easily avoided by the use of proper meetings via virtual meeting apps.
Employee Non-Responsiveness
Sometimes the employees are taken by procrastination, and they delay the work. It also leads to deterioration of quality sometimes.
Lack of Focus in some Cases
In some cases, the employees are not able to focus on their work, and this leads to mismanagement of the project.
Lack of Long-Term in Remote Jobs
In remote work, jobs are often given on a short term basis. For this reason, most people don't like them because you have to look for another job once one is completed.
In remote work, there is more responsibility for the employee, and one has to force themselves to work regularly.
No immediate access to the team in usual cases
In remote work, the employer can't access the team immediately when they want. This often creates hurdles in proper communication and regular team meetings.
Is World Shifting to Remote Work?
The future of remote work is secure. The world is shifting towards remote work, and the Covid-19 pandemic has played a significant role in it.
So once the world returns to normal, we'll have some new normal, and remote work is one of those.