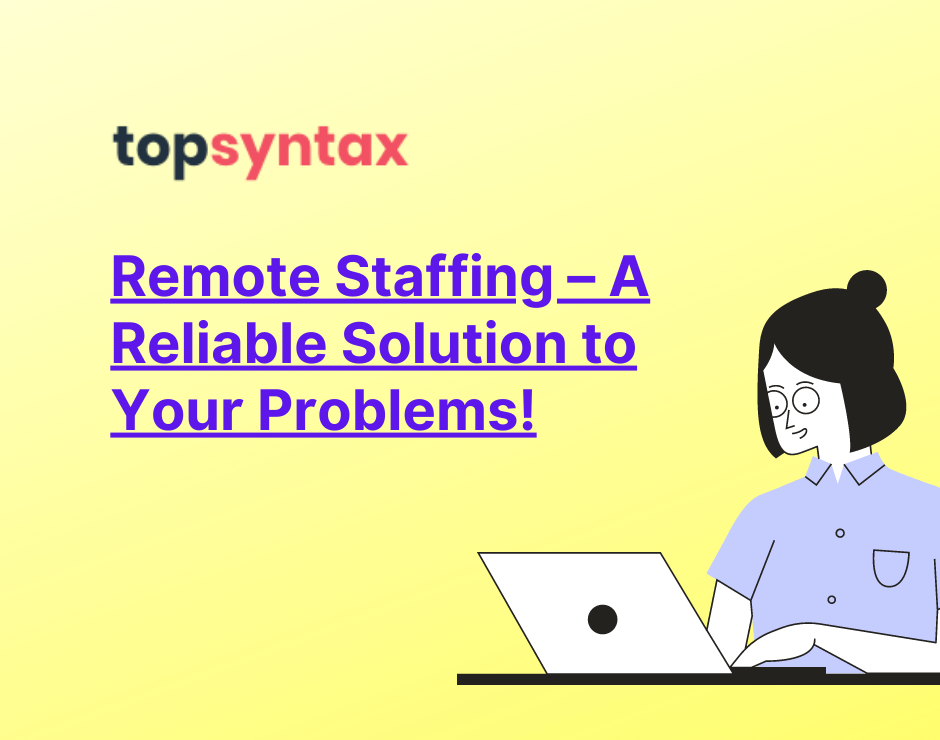 Remote Staffing – A Reliable Solution to Your Problems!
Remote development can help you get rid of potential loopholes in your project, raise the value of your ROI, and will relieve you of potential headaches.
Remote staffing not only helps you with the distance issue but also reduces costs. Let's explore how to rid you together! 
What is Remote Staffing?
Remote staffing is an economical, reliable, and client-oriented outsource hiring of professionals to get a job done. You can employ a person or a team for a long or short term in remote staffing, depending on your needs. There is no need to invest a big number of bucks; instead, your project's cost depends on the term for which you hire an expert.
Customers often need an exceptional and committed team to serve their mission, and remote developers offer this solution. Remote work is getting rid of the traditional office-based setting.
Remote staffing, also known as offshore hiring. This is usually done to avoid costs and expensiveness.
Remote development doesn't involve a traditional office or a workplace to gather people and work. Remote staffing fulfills all your needs, whether you are searching for a programmer, back-end engineer, or any other expert.
It meets all your needs in a single virtual space.
Though remote staffing often refers to offshore hiring for a project but doesn't always mean those from outside one's state or country. A remote developer can be from one's state, too; the only requirement is outside one's office or physical location.
The timing and working hours in remote development teams depend on the employer. Some employers need remote developers who can work according to the tight schedules set by them, much like the office hours.
In contrast, some employers want their employees to work according to their own convenience. However, the work's quality may be affected by the schedules set by the employer because the remote developer is not an employee in the traditional sense.
Remote staff hirers often don't feel any problem with those remote developers who are regular employees somewhere else. All they need is the service that a remote developer provides very well. Remote staffing is much beneficial for an employer because they don't need to accommodate developers in their office or other workplaces. The remote developers will work from their homes, and this will also reduce the interaction between the employees, which is also prevention to one of the causes of great impediments in the speed of the work.
Some people might think that differences in time zones may be a hurdle in productive projects, but it is no issue. It is considered the essence of remote development because it brings a sense of responsibility to the team members.
Though there are no pre-set rules for remote staffing, usually remote staff is hired for a single project, and the relationship comes to an end when the project is over. In some cases, the employer hires remote staff for more than once because quality work compels them to select the best for the job.
Remote developers are mainly required in those fields where a person can work online. Mainly those with expertise in computer software, web development, web designing, IT, cybersecurity, etc., work as remote developers.
Remote development has gained great popularity in different fields and a rise of about 173% was seen in the past decade in this particular field. In the US, this ratio is of immense value because about 5% of workers work as full-time remote workers. At the same time, about 3% of US employees work from home for about half their time.
Remote staffing is relatively easy and doesn't require the hectic process of regular hiring. You just need to look at the portfolio, resumé of the applicant, and decide whether they suit the needs of the project. After selection, you decide the sum you've to pay the developer. You can also hire a developer for another project after you find his work reliable.
Categories of Remote Developers
Remote staffing can be made in various fields, as stated earlier. There is a range of areas where one can hire a remote developer; these include:
IT and IETS Sector
Digital Marketing
Mobile App Development
Content Writing
Graphics and Web Designing
Engineering and Architecture
Data Entry
Multimedia and 3D Animation
IT Technical Support
Medical Processes
Virtual Assistant
Finance and Accounts
Legal Processes
BPO Services
HR and Recruitment
There are many other fields as well, above given are those of highest ranking in remote development jobs. In simple, all those jobs that can be done in a virtual space come in the domain of remote development, and you can hire a remote developer for your needs.
There are three factors which decide whether a job can be done remotely or in-house; these are:
Does an employer need remote staff? Their preferences.
Needs of an employee – Whether it is possible for them to work on a full time, in-house basis.
Suitability – The kind of job that is being performed because not all jobs are possible to be done remotely.
Need of Remote Developers in the age of New-Normal
Things have changed much with innovations and technology developments. It's an age worth calling the era of algorithms and remote work. Due to the ongoing pandemic of COVID-19, the importance of virtual workplaces has soared high and has become a new normal. In these hard times, we need to do remote staffing because there are no hurdles that we may face in case we have office-based employees.
In remote staffing, there is no fear of lockdowns or staff vulnerability issues. Each of us has got their safe havens, our homes, and can work from there. It benefits both the employer and employee because it saves costs, brings flexibility, and creates a balance between work and life.
In days of social distancing, employees feel more comfortable while working from home. Thus, it can increase productivity by maintaining the comfort level of the employees. The absence of commutes saves not only time but also money and energy spent, which adds to the pros of remote development.
Remote staffing has brought with it one of the biggest benefits, and that is exposure to a vast market, and the hiring pool is widened. This gives the employer opportunity to look for and select the best.
Thus, hiring remote staff can save you from many problems that you may face if you go instead for an office-based team.
Perks and Challenges of Remote Staffing?
Though remote staff has a lot of benefits, there can be loopholes too. It would be best if you were careful while hiring remote staff. There are potential loopholes that may cause harm to your project. To avoid potential loopholes, you should look for an ideal remote developer who should be:
A Self-motivated person
Well-Organized
Independent
Communicative
Adaptable to varying situations
Tech-Savvy
Committed to work
Confident
If you don't see these qualities in an applicant, don't go for them because it may prove a big risk for your project.
There are a lot of challenges for a developer when working remotely. There are chances that they might feel isolated and lose focus. Employee visibility is also an issue, and it might decrease in remote work and can cause a lack of proper feedback. Work-life balance may also be lost, and this causes performance issues for a developer.
Due to remote work, there are very much less relationships between the employees, and this may decrease productivity. To avoid this pitfall, the employer needs to ensure that there is proper communication between the employees. The employer should utilize teleconferencing apps and tools to bring the employees together. This will increase the reliability and build trust between the team members.
Though workers may face distractions when working remotely, there are distractions in offices as well. One just needs to motivate the staff to avoid spending their precious time in useless activities and ask for feedback on a regular basis.
Let's do it together! Remote staffing is a modern solution for a modern age and can be utilized by intelligent employers who know how to invest their resources well. If you do have jobs that can be done online, go for remote employees, and see the magic!