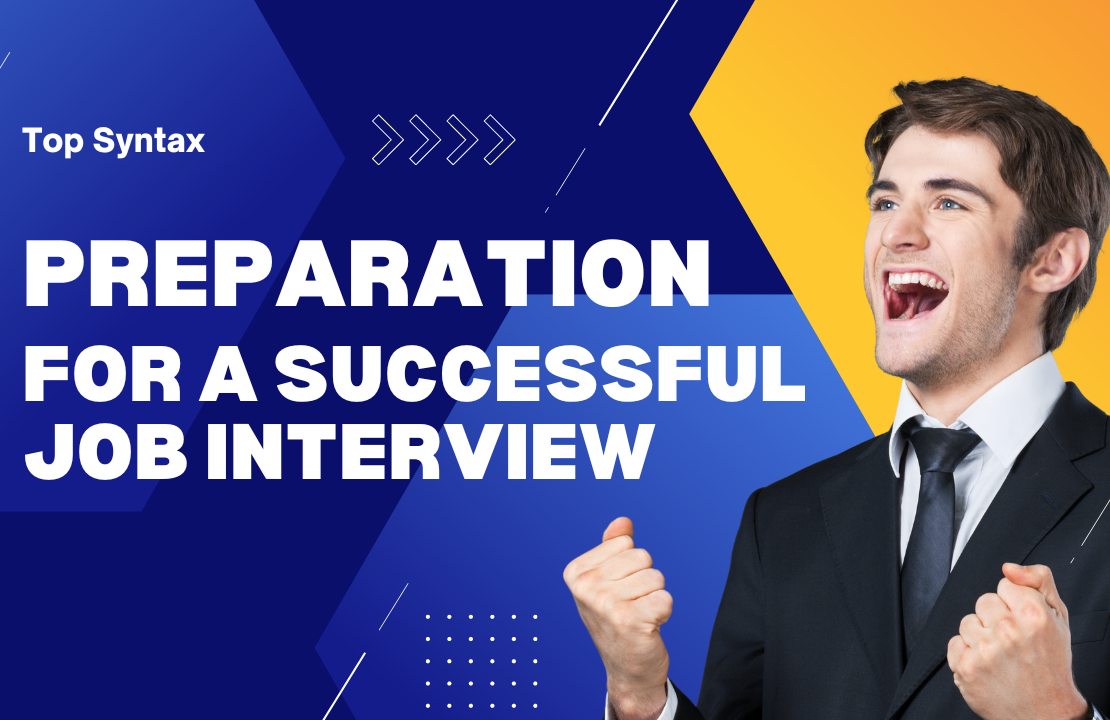 Whether you're interviewing with a large corporation or a small business, either directly or through a staffing agency, a job interview is a critical moment in the hiring process. You need to look and act your best. If you're looking for a new job, you'll need to make some effort to get noticed by the hiring managers. Below are five things you should opt to prepare for a job interview to help you stand out from the crowd.
Research the Organization
While preparing for an interview, you must know about the organization to which you are applying for a job. In this way, you better understand the company's basics, which would cast a good impression because all the conversation is made against the backdrop of the company's needs and the interviewee's skills. After getting an insight into its interests, culture, and designations, you will able to determine by yourself whether you are fit for the role.
You can get such an extensive comprehension of the business by one means or another.
Websites: The most used method of research for the company is through its websites. These websites provide you with a thorough knowledge of the organization, how it is being compared to other organizations, and what its specifications are. You can read their articles to learn about their services, departments, and teams.
Social media: Explore their social media sites, read reviews of clients and customers and prepare yourself to mention in the interview what you can do for the company to fill its gaps and solve complications, making you one step forward to the selection.
Newspaper: Check out their achievements through the newspaper and their business track record, and then analyze their current scenarios.
Analyze competitors: Find their competitors and come across all the gaps and characteristics which are common and which are uncommon between them.
Future plans: Try to target the programs and be prepared to speak on what services you can provide to help achieve their goals.
In this way, you get a broader view of the organization. You can also get to know about the first-hand experience of employees in the company if you are lucky enough to reach one.
Prepare for Common Job Interview Questions
Before you go for your interview, you should prepare a list of common job interview questions based on your career objectives and the job description. You can make this list yourself or look online for sample questions. If you do not prepare for them, you will likely fumble and get confused during the interview. There is no need to cram the answers because you do not find an exact picture puzzle to solve; make a list of some sharp points that you want to cover in your answers so that it will look natural. Try to give leading answers that will raise more questions from your answers, and you thus make the interviewer slip into the topic of your achievements and interests.
Here are some commonly asked interview questions:
Tell us about yourself.
Why should we hire you?
What attracts you the most in the job description?
What are your strengths and weaknesses
Why you resigned from your last job?
Where do you see yourself after three years
What are your expectations from the company?
Be natural, humble, and auspicious in your attitude because interviews are one's personality test more than a knowledge test.
Prepare Questions to ask Interviewers
Asking questions to interviewers is always welcomed and appreciated. It indicates your interest and shows what you have researched about the company. But remember, questions must be relevant and asked in a genuine way. Interviewers often ask in the end that if you have something to ask, for that case, you must have prepared 1 or 2 questions. If the interview is taken by a panel, you should ask a question to all in order to engage everyone, but if it is taken solely by a person, you can directly ask him. Prepare some questions and ask them to make an engaging environment. Do not ask irrelevant questions or questions that have already been discussed during the interview.
Here are some questions that you would like to ask:
When did you join the company?
What quality do you think leads a person to success?
What does a typical day look like in this position?
What makes you stay here for longer?
You can also pose some leading questions. Leading questions arise from the answers. But keep it in mind do not prolong your questions to unusual lengths. Such behavior shows clinginess and impatience.
Social Etiquettes
Basic social etiquettes are the most important things to consider if you have to appear for an interview. First of all, take all the preventive measures to avoid all kinds of mishaps.
Suppose the interview is conducted online. Make sure that you have high-speed internet access to steer clear of poor audio or video. Test your audio and video quality before the interview. Otherwise, half of the time will pass in adjusting your gadgets and requesting to repeat the lines.
Sit in the right place away from all the hubbubs, and ensure to have no background noise.
Non-verbal gestures are important. They reflect your attention toward the speaker. It indicates how devoted you are to this job.
Make direct eye contact with the interviewer; it shows your confidence and seriousness for the job because body language is a reflection of your mind and thoughts.
Be in proper formal business attire to look professional.
Do not use slang; be formal, polite, direct, and concise in giving answers with a smile on your face.
Always bring 3 to 4 copies of your resumes with you, so you do not need to take a rush to bring more copies.
Always be on time for the interview. Fifteen minutes before, you must be there, the first impression is a long-lasting impression that can be cast on anyone, so it has to be good. Being late for the interview posed a negative thought to the interviewer before the interview. He then takes less interest in your resume and credentials and rejects you.
Follow up with a Thank You Note
You are done with all the things that were needed before the interview. Now the interview is over, what else can you do now? Putting all your fears away, tell them that you have enjoyed their company and are delighted talking to them. Selection or rejection is a separate matter. Just be relaxed and start a youthful conversation with them. We are not telling you to flatter them but to engage them in a healthier conversation.
You can ask them what should be the best option for you in the future or what should be your expectations from the company.
The next and final thing is to send a thank you email within 24 hours. It is also a basic etiquette to thank someone for his time, energy, and commitment. It restates your dedication and consistency for the job.
It again gives you a chance to discuss anything unclear and maintain a healthy relationship with the person.
It would help if you practiced and prepared for mock interviews. You can't really learn something without practicing it. Do your research on the company, read its news and articles, and listen to what they say. The more you know the organization and its employees, the better off you are. Prepare for commonly and frequently asked interview questions and have a strong grip on your skills. Follow all the basic etiquette because actions speak louder than words. Make sure you're prepared for the interview and that you're ready to impress the hiring manager.