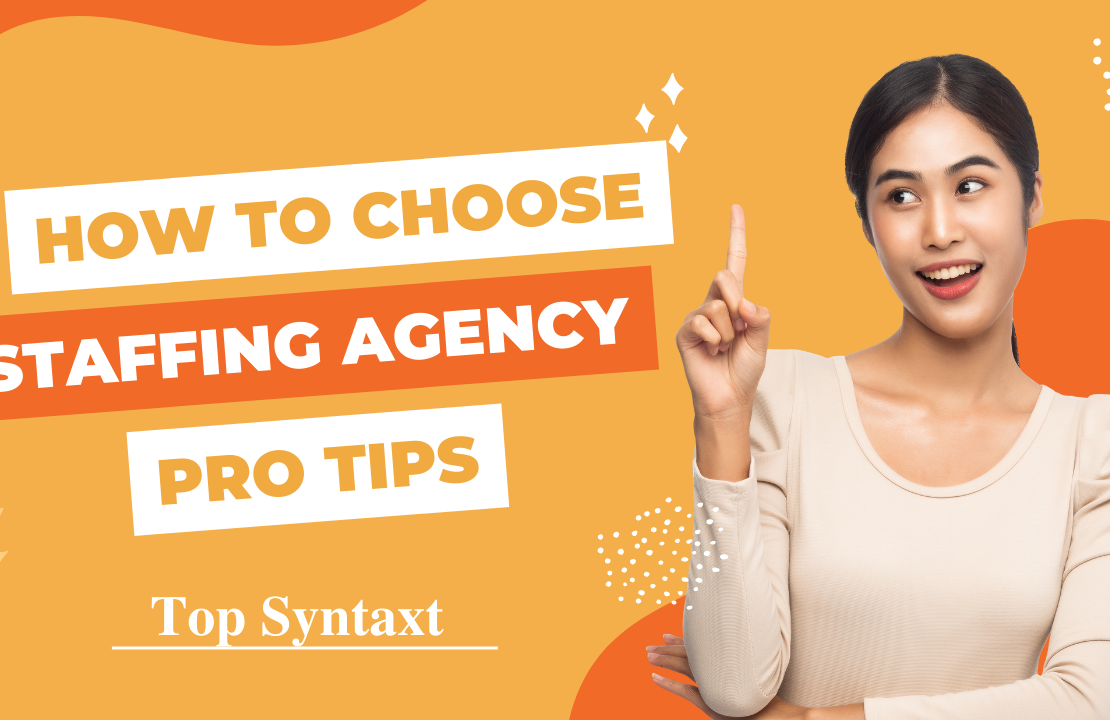 While staffing your company, you have to make sure that you choose the right staffing agency that can provide the best services and help you achieve different milestones in the rapidly evolving business era. The process of finding a good staffing agency seems very simple, but in reality, it is not. It will take a lot of time and effort to find the most efficient firm. You can't just approach any random recruiting agency and tell them what specific skill you are searching for. It is, in fact, quite a challenging process. 
In a survey by the American Staffing Association, there are more than 24000 staffing firms working out there in America. And among such a large competition, it is difficult to pick out the best fit for you as the success of any organization lies in the quality of work by competent and certified staff.
So it is important to have knowledge of the pros and cons of staffing agencies so that you will be able to make the best decision for your business. Here are some things to consider while choosing a staffing agency because your one bad choice will lead you to the failure of the whole project, and you will end up with a bootless errand.
Steps to Choose best Staffing Agency
Identify your needs
Before hiring a staffing firm, you must determine your hiring needs first. Do you need a direct hire for a permanent position, a contract to hire, or project-based hiring staffing services to meet your temporary workforce needs? 
In direct hiring, employees become a permanent part of your company. 
In contract to hire approach, you hire a person for a temporary role and check whether he would be the best fit for the permanent position. If you find something unfit, you can end the contract at any time. 
Project-based hiring employees get paid for a particular project they have done for the company.
If you are not clear about your needs, you will find problems in reaching out to staffing agencies, as every staffing agency has its own set of policies and services. Some agencies are designed for specific field recruitments, such as IT staffing firms, while others are general sort of agencies. 
Experience
Does it have good working experience? Does it have an established reputation? Does it have gained positive reviews from clients? These are some of those questions which must be check before hiring any staffing firm.
A staffing agency with good past work experience will likely to be the best option for you. Their good reviews are an indicator of having a highly professional team of personnel which ensures a successful work experience with you and you will have a better insight into their services. That's why it is critical to know about their work experience.
Finding out about the experience of any particular recruiting agency is not difficult. Just go through its website and determine its launching date. You also get to know other clients who are working in collaboration with service provider agencies. If you find a connection with any of their clients, you can also ask them about their service experience.
License and Certification
A recruiting agency must be licensed. It cannot work legally without an operating permit issued by the government. Therefore, you must ensure their validity by asking if you can see their license. You can also ask for their certifications if they have any, such as ASA Certified Staffing Professional certification or LinkedIn Recruiter certification. As well as you can also get employees' certifications as certified employees add credibility to the agency, and you will be able to get high-end services.
You should also ask if you can meet them to assess their skills. And be aware of their background, training, and experience. If the agency is not transparent, it might be a red flag.
How does the Staffing Agency screen candidates?
Ask them gently about the procedure of screening candidates by a staffing firm because the harder the screening tests are, the better qualified high-end labor you get. It might be a manual screening or screening through online tests and interviews.
Along with the technical screening, staffing agencies must put a tab on drug testing, medical and cultural background checks, and also check their criminal clearance.
Their interview-to-hiring ratio must be related to reasonable and justifiable standards. It should not be too high or too low.
Check if a particular staffing agency is still putting ads on different platforms to recruit candidates. If it is so, it might not provide you with consistent outcomes because it does not have a big genuine talent pipeline.
How does the staffing agency hunt talents to build a talent pool?
Today you can't rely on finding an employee by just putting an ad in the newspaper. It will take weeks and months to find a perfect fit for your open position. You must have to contact a recruiting agency to find suitable talent from its talent pipeline. 
That's why for choosing a recruiting firm, you should ask them if you can know how they recruit employees for their firm. Staffing firms do not rely on just one source to haunt talented minds. They have established their database through an in-depth search on different platforms:
Social networking sites
Newspaper adds
Job boards
Referrals 
If you find that they have well-organized and well-defined recruiting strategies, you can expect a great candidate from it in lesser time.
Work with an agency that values your business
Not every staffing agency values your needs and values your policies. Most of the firms are committed to only their benefits. They do not bother your interests. A good relationship between an agency and its clients is crucial for the growth of both parties. It's like they can make or break a company. Working with a company that understands your business is a great place to start. And if you've been working with an agency that doesn't understand your business clearly, then it's time to find one that does.
If you are tired of filtering out resumes, reach out to Top syntax today. With Top syntax staffing agency, you can fulfill all your hiring needs and demands. Your concerns are our priorities. We have a widely established database to provide you with top-quality full-stack developers for businesses of all sizes.